Parasites are an important risk factor for both: the cat and you.
Thus, regular deworming is a real necessity. It is necessary if you want to live in harmony and without hygiene problems with your cat.
External deworming done with the help of scratches or special drops.
Internal deworming done with the help of a vermicidal drug. It can be in the form of pills or the form of powder. In adult cats, it recommended getting rid of twice a year.
Some of the links in this post are affiliate links. This means if you click on the link and purchase the item, I will receive an affiliate commission at no extra cost to you. All opinions remain my own.
Prevention
Cats are animals with very stable habits. If you live in the house, the early symptoms of the disease are not difficult to notice. These can be behavioral changes: cat apathetic, nervous or without appetite, exaggerated thirst, refusal of defecation, teary eyes, presence of abundant nasal secretions, hair lacking in gloss, weight loss and others.
Vomiting is not necessarily a sign of illness. Cats can cause vomiting to remove swallowed hair from the stomach. If it accompanied by other symptoms or often repeated, the cat should consulted by the veterinarian. Rapid intervention is important in treating any disease. There are two reasons:
1 disease develops very quickly in cats
2 cats show signs of illness at the last moment although it has been suffering for some time.
The cat is an animal with minimal concern can maintained in the best physical and mental conditions.
But we must submit it regularly to the consultations of a veterinarian.
Vaccinations are also given according to a schedule of the veterinarian.
We will provide the time needed for movement, play, nutrition, care and maintain the cleanliness of the place where he lives and the accessories he uses.
External and internal parasites especially attack the cat without the owner and those who have free access outside the house. These parasites affect me out in cats that live only in the house and can be more easily controlled. The safest thing is to treat them properly, preventive (vaccines, external and internal deworming).
But be careful: it is not recommended doing internal and external deworming on the same day.
External parasites
Consultation by your veterinarian may or show the presence of external parasites, such as fleas, ticks or lice.
The first ones are easy to detect due to the excrement (small, black dots) that gather in the areas where the cat fails to lick and clean.
Flea may cause allergic dermatitis or transmit diseases.
External parasites can removed. But above all, their appearance can prevented by using special scratches and drops.
But I do not recommend scratches for two reasons:
Some cats may be allergic or simply annoy the collar.
Cats are very beautiful as they are, without any addition. I do not like a
cat "dressed" or I know what idea they give to others.
From the condition of the skin and the skin can detect more serious pathologies: ray, dermatomycosis, both cures.
External parasites can affect the ear. The presence of mites causes internal itching and the secretion of black ear wax.
Auricular scarring is a type of extremely small parasite that can infect the ears of cats.
The presence of a brown substance, which resembles coffee, indicates the auricular ray.
This parasite lives and reproduces in the ear channels, nourishing itself with skin remnants and cellular fluids. Being highly contagious, the headache is often transmitted from animal to animal, in occasional contact at home, or outside.
To prevent a headache, it is advisable to use anti-parasitic solutions.
Recommendations
Buy Eecommendations

ffipro Spray for Dogs and Cats
Effipro Spray for dogs and cats is a newly developed formula with fipronil. The pump action spray is used for the control of fleas and ticks on dogs and cats. The insecticidal spray fight against new infestations with adult fleas for up to 6 weeks in cats and 3 months in dogs. The acaricidal efficacy of Effipro remains active for up to 4 weeks against ticks. Based on the new formula of tried and tested agent fipronil, Effipro spray starts killing fleas within 24 hours and ticks within 48 hours. The fast-acting formula provides effective and long lasting protection against fleas and ticks. The practical formula is affordable.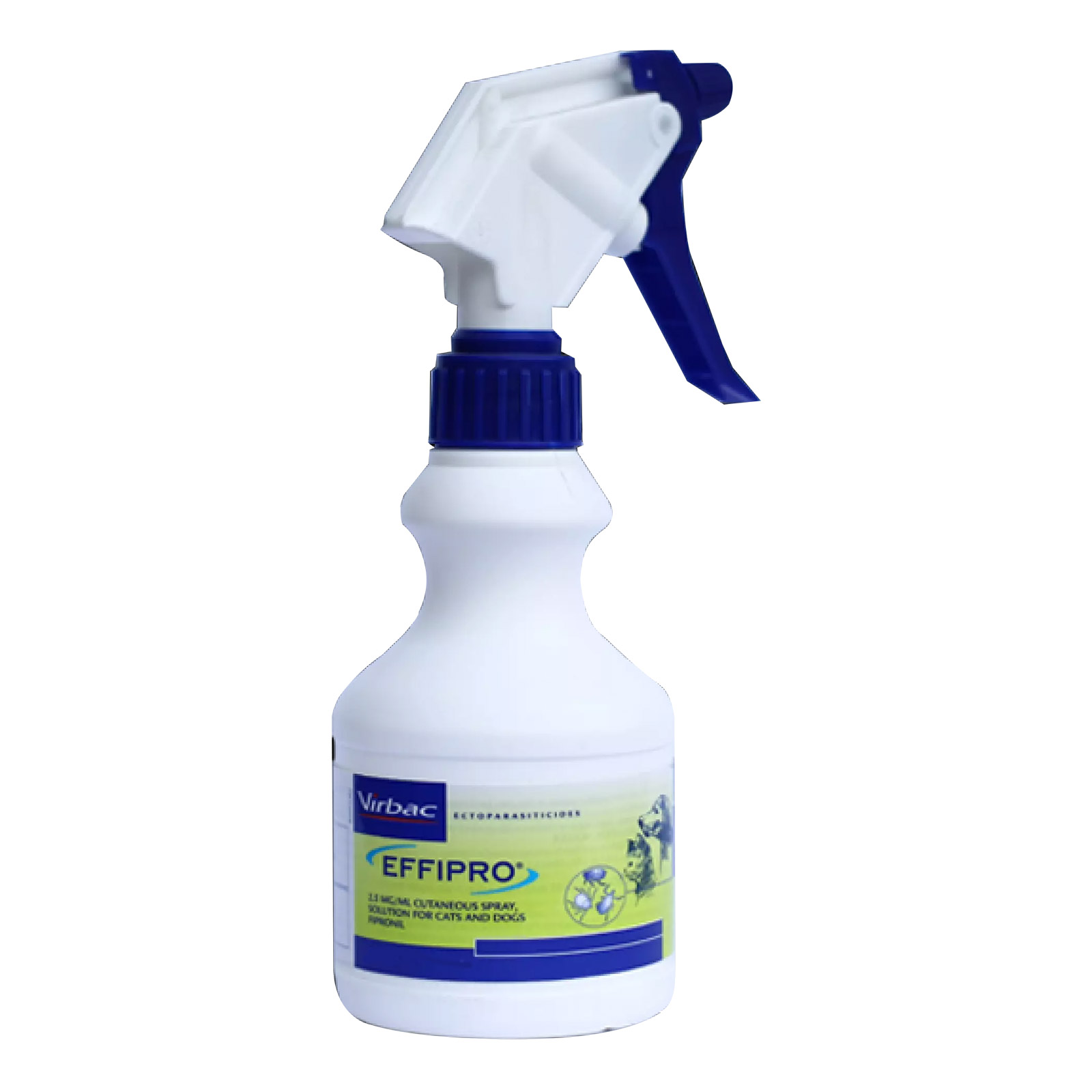 Buy Revolution for Cats
Revolution is a monthly spot-on treatment that controls a broad spectrum of both internal and external parasites found in cats. It kills adult fleas and prevents flea eggs from hatching. It also controls ear mites. This also treats and controls gastrointestinal worms like roundworms, and hookworms. The topical solution also prevents heartworm infection in cats very effectively. Revolution is safe to be used on kittens older than 8 weeks of age and also on pregnant and lactating female cats.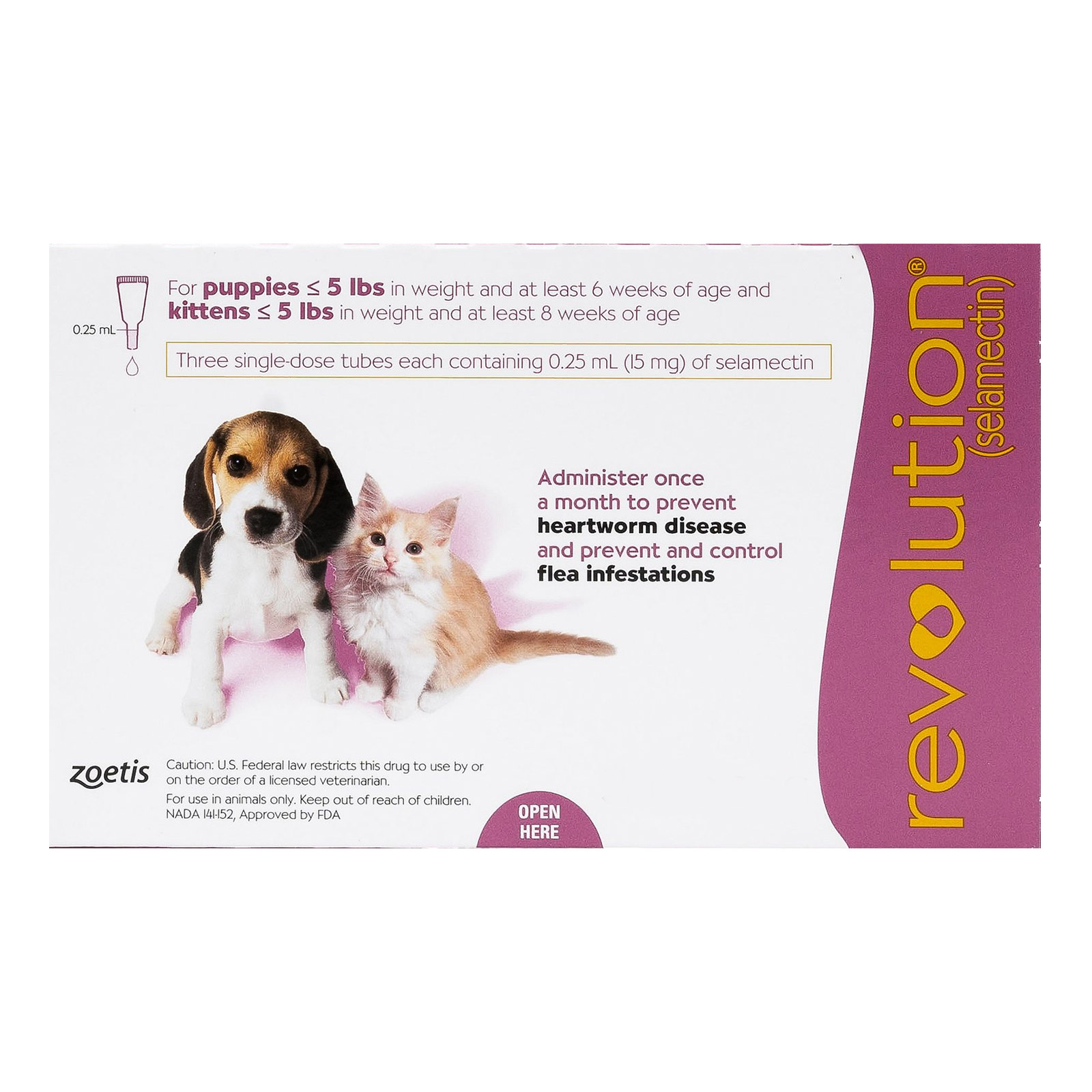 You can see the customer reviews. They seem to be very pleased.
Internal parasites
Numerous worms colonize the intestines of the cat. Most of the time their detection is possible. Internal deworming is mandatory. First of all, in case of need but regularly, for prevention. 
There are two categories of worms: roundworms and flatworms.
Kittens can still infected before they are born, through larvae that can cross the placenta.
Also, the infestation can be done by swallowing (breast milk or eggs present in the environment).
In the adult cat, the infestation occurs by ingesting larvae, eggs, or rats or mice.
Roundworms
The limb worms are round, yellowish-colored worms, 5-10 cm long.
In kittens, their presence can cause diarrhea, vomiting and even respiratory disorders or intestinal occlusions. That is why it is important to get rid of deworming with a vermicidal drug. It can be in the form of pills or the form of powder.
Please note that even if it does not have complications, a cat infested with limbs will gradually become very weak.
Another category of roundworms is ankylostomes. They are worms with a length of 5-10 mm. It attaches to the intestinal walls and feeds on blood. The warning signs in case of infestation with this type of worm are diarrhea and severe anemia.
Flatworm
The Flat Tapeworm is the most widespread flatworm. Piglets and lice are generally the vectors of transmission of this worm. Hence, the importance of treating the cat against external parasites.
The main symptoms, in this case, are weight loss or a lack of appetite.
Infestation may go unnoticed. Therefore, the best prevention method remains the administration of a vermicide.
The veterinarian is the one who will advise you on the program and the type of vermicide suitable for your cat.
Internal deworming is an essential gesture that ensures the health of your animal. It also ensures good hygiene for the whole family.
As known, certain diseases caused by worms are transmissible to humans. That is why getting rid of the cat is necessary.
At the beginning (when I started to grow cats), when I was doing the internal deworming of the cats, we were all doing an internal deworming. The drugs were different lol.
Now it is no longer necessary because I make regular debasing twice a year. My cats can't leave the yard and garden, so it's OK.
Keeping the vaccination schedule and internal deworming will protect the cat from most diseases.
The prejudice according to which an old cat or one that lives only indoors cannot infested is false. Correct and regular vaccination required. Also, internal and external deworm required, according to the schedule established by the veterinarian.
It should noted that a vermifuge does not induce a cat disease. If you missed a booster or don't remember the last time you got rid of it, there is no danger of getting vermicide again.
A preconceived idea is that the cat's habit of eating grass will help eliminate worms. Only regular internal and external deworming will save it.
You have to notice any strange behavior early. If he seems depressed, if he refuses to feed, if he drinks more water than usual, it is probably a condition.
You must remember that certain cats remain healthy carriers. Others downgrade a disease after stress or double the weakening of the immune system.
We find in cats infestation with protozoa (giardia or coccidia).
Giardia is present on the lining of the small intestine. It can cause enteritis and infest adult kittens and cats.
Coccidia is responsible for the appearance of enteritis especially in kittens of 1-6 months. But cats are also infested by ingesting cysts present in the soil.
Recommendations
Buy Bravecto Plus for Cats – Flea/Tick and Heartworm Preventative
Bravecto Plus is a topical solution that effectively prevents heartworms, treats gastrointestinal nematodes, and eliminates fleas and ticks in cats. It instantly relieves cats from fleas and ticks and shields your cat for 12 whole weeks by killing the fleas before they can lay eggs, thus breaking the flea life cycle. The wormer also eradicates roundworms and hookworms, while it effectively prevents heartworm as well. It also aids in controlling the FAD (Flea allergy dermatitis) in cats.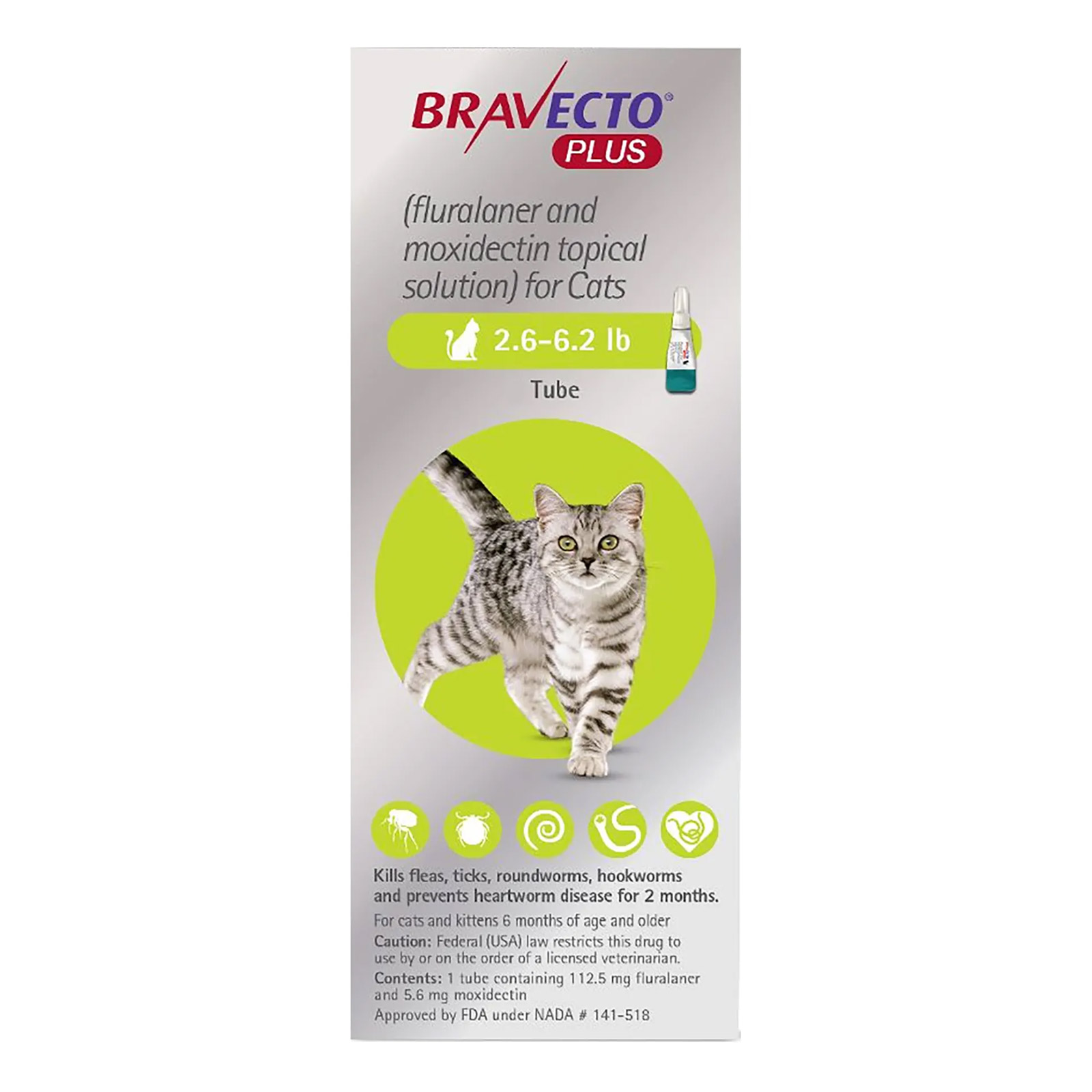 Buy Milbemax for Cats
Milbemax is broad spectrum wormer. It comes in a beef flavored tablet. This potent tablet can be used for heartworms by giving it to your cat on a monthly basis. It can also be used for intestinal worms by giving it to your feline once every 3 months. This is a perfect and very effective treatment for all types of intestinal worms including roundworms, tapeworms, hookworms as well as the prevention of heartworms. It is advisable not to use the tablets for small cats and kittens of less than 6 weeks of age. Milbemax can be used in breeding cats including pregnant and lactating cats.
Buy Triworm-C De-wormer for Cats
Triworm-C is an effective dewormer for cats and kittens that eliminates gastrointestinal worms. It efficiently removes parasites like hookworms, roundworms (ascarids), and tapeworms. Moreover, it also prevents future worming infestations for many weeks. This oral treatment is specially formulated to provide protection against any infections in cats. Triworm-C is extremely safe for all cat breeds including kittens and adult cats.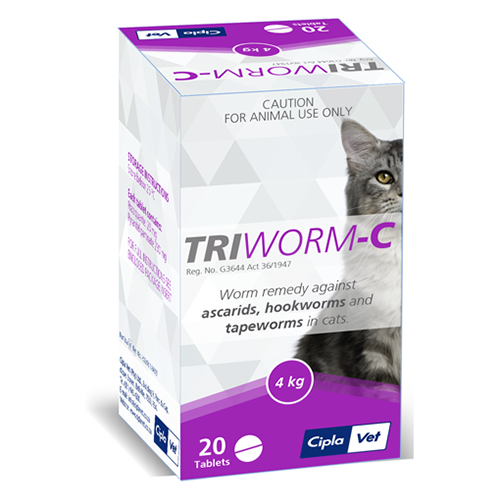 You can see the customer reviews. They seem to be very pleased.
The calendar of the

deworming
In the case of the kittens, the deworming done at one month, at three and six months.
In adult cats, it recommended getting rid twice a year or at the veterinarian's recommendation.
In the case of the pregnant female, the deworming done 15 days before the fetus, then immediately in the next month.
Generally, the veterinarian establishes the deworming scheme, depending on the way of life of the cat.
The scheme differs from one animal to another. It depends on the environment where the adopted cat comes from and the way it maintained. It depends on what deferrals made until the time of adoption.
It also depends on the environment in which he lives: in the apartment or the yard, in communities of several animals or alone.
Internal deworming is not done with any product. Ask your veterinarian if the recommended products are suitable for your cat.
Recent studies have shown that owning a cat does not increase the risk of toxoplasmosis contamination. Provided that minimum hygiene conditions respected. The consumption of raw meat has the most important role in the spread of this infection.
A cat that does not have access to the outside and who eats exclusively industrial food does not pose any risk of contamination to humans.
Conclusions
Regular deworming is a real necessity and it is necessary if you want to live in harmony and without hygiene problems with your cat.
Internal deworming done with the help of medicine in the form of pills or the form of powder.
External deworming done with the help of drops, spray or powder.
The recommendation is not to do both types of de-parasitization on the same day.
A vermifuge does not induce a cat disease.
If you missed a booster, there is no danger, you can use a vermicide.
I would be happy to leave a comment and tell me your experience about getting rid of your cat. Or any other thoughts you want to share.
Thanks.